Samsung Electronics unveiled its latest lineup of MicroLED, QLED 8K and Lifestyle TVs ahead of CES 2020. The Televisions come in three variants, which includes a 75-inch, 88-inch, 93-inch, and 110-inch display screens.
Samsung launched its first ever MicroLED smart TV lineup, dubbed as The Wall, back at CES 2018. At the time, the company had introduced its smart TVs in 146-inch screen variant. Last year, it expanded the lineup to offer 75, 219 and 292 inch screen sizes. This year, Samsung has made some additions to its microLED TV lineup. The company now offers 75, 88, 93 and 110 screen variants as well.
According to Samsung, this devices will completely transform the television experience in 2020. This great 8K image quality innovation is based on artificial intelligence and innovative display technology. Samsung showcased how its 2020 lineups redefine immersion and revolutionize home integration.
It says " Consumers use screens every day to work from home, exercise from home, and even shop from home. As our lifestyles continue to evolve, the TV screen is evolving with them to provide consumers access to their favorite content and real-time information whenever and wherever they want it," said Jong-hee Han, President of Visual Displays at Samsung Electronics. "As part of our vision of 'Screens Everywhere,' we're thrilled to deliver a more vivid and connected at-home viewing experience by incorporating AI-enabled features and 8K technology into our displays."
Apart from updating its MicroLED smart TV lineup, Samsung has also launched a brand new QLED smart TV with an 8K resolution. The newly launched smart TV, which features a model number of Q950TS QLED 8K TV, comes with an ultra-thin form factor and it offers 8K picture quality with surround-sound audio.
The Samsung Q950TS 8K QLED promise a performance lift over last year's courtesy of a 2nd-gen Quantum Processor 8K, which is designed to further improve texture creation and noise reduction while creating its own algorithm to restore fine details. These set of TV's are "nearly-bezel-less" thus, Samsung is bringing the ultra slim Infinity Screen display to TVs. The TV panel itself is only 15 mm thin, making it the industry's first 8K TV to combine an ultra-thin form factor, 8K picture quality, and surround-sound audio.
The Q950TS also boasts built-in 8K AI upscaling and deep-learning capabilities that can automatically upscale non-8K content (which is a lot at this point, btw) "to pristine and true-to-life 8K resolution."
 The MicroLED smart TVs use micrometre-sized LED modules as individual pixels, which enables them to deliver high quality image. The image quality offered by the MicroLED smart TVs is far superior than that offered by the conventional LCD TVs. These TV display can reach impressive peak brightness levels of 5,000 nits, and they, too, lean on deep learning AI to upscale content.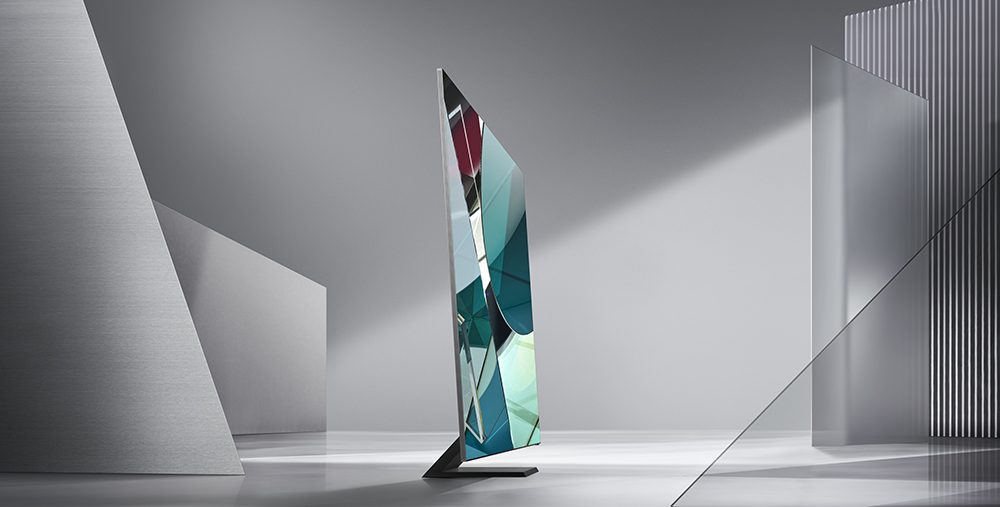 It also comes with notable features which includes Adaptive Picture (basically, screen optimization based on ambient and individual images), support AV1 codec, support HDR10+ technology, Q-Symphony, Object Tracking Sound+ (OTS+) and Active Voice Amplifier for premium quality sound.
Alongside the MicroLed and QLED TV, Samsung confirmed its plan to globally release the Samsung Sero TV in 'several global markets in 2020. This lifestyle tv called SERO which means vertical in Korea is designed with the perfect look to showcase horizontal or vertical content. Samsung also claims that The Sero is the perfect solution for customers who want to connect their smartphones to their TVs.