Samsung has enjoyed endless success in a lot of categories like television, smartphones, and more. So therefore, best is expected from their laptop category. Achieving this must have really drill the company, however, the new Samsung Notebook 9 Pro is a great result of this effort.
Samsung's Notebook 9 Pro does a very good job of balancing performance and features with battery life.
Samsung announced several products at its press conference today at CES, including a couple of very nice looking notebooks, aimed clearly at opposite ends of the market. The Samsung Notebook 9 Pro is a premium Ultrabook, and the Notebook Flash is a budget device with some nice features for the price range.
Samsung Notebook 9 Pro specs:
Display: 13.3-inch 1080p, 6.7mm bezels
Processor: Intel Core i7-8565U ("Whiskey Lake")
Graphics: Intel UHD 620
Memory: 8GB LPDDR3
Storage: 256GB PCIe SSD
Ports: 2 Type-C (Thunderbolt 3), 1 USB-C 3.1, HDMI, 3.5mm audio, microSD
Wireless: 802.11ac (2×2)
Security: Fingerprint reader (Windows Hello)
Cameras: HD camera
Battery: 55Wh, fast charging
Operating system: Windows 10 Home
Dimensions: 12.1 x 8.1 x 0.55 in.
Weight: 2.84 lbs.
Samsung Notebook 9 Pro Overview
This new updated Notebook 9 Pro (2019) is an attractively designed 360-degree 13.3-inch convertible that builds in Intel's "Whiskey Lake" Core chips.
The 2019 model is made of aluminum chassis, with a diamond-cut series of ridges running along the edge. Hence, the smooth finishing.
Although, the Samsung's Notebook 9 Pro is a middle-range laptop, it can strongly compete head-to-head with the Dell XPS 13 or MacBook Air.
The Notebook 9 Pro is not just for looks. The device also feels substantially more rigid and well-built than in previous years.
The new design of the Notebook 9 Pro is decidedly edgier. The radii of the corners turn at sharper angle and the top of the bottom of the notebook are also now completely flat.
Like many of Samsung's laptops, the Notebook 9 Pro also has a 2-in-1 design with a touchscreen that can flip around to convert into a tablet, stand up on its side, or any other configuration in between.
Change has come to the Notebook 9 pen, Samsung has do away with the stylus pen, instead, a built-in S-Pen in a slot, it is including an "Active Pen"we now have the likes of Apple Pencil or Surface Pen. This new pen feels more comfortable to hold. Samsung says it hasn't lost any functionality and offers over 4,000 levels of sensitivity.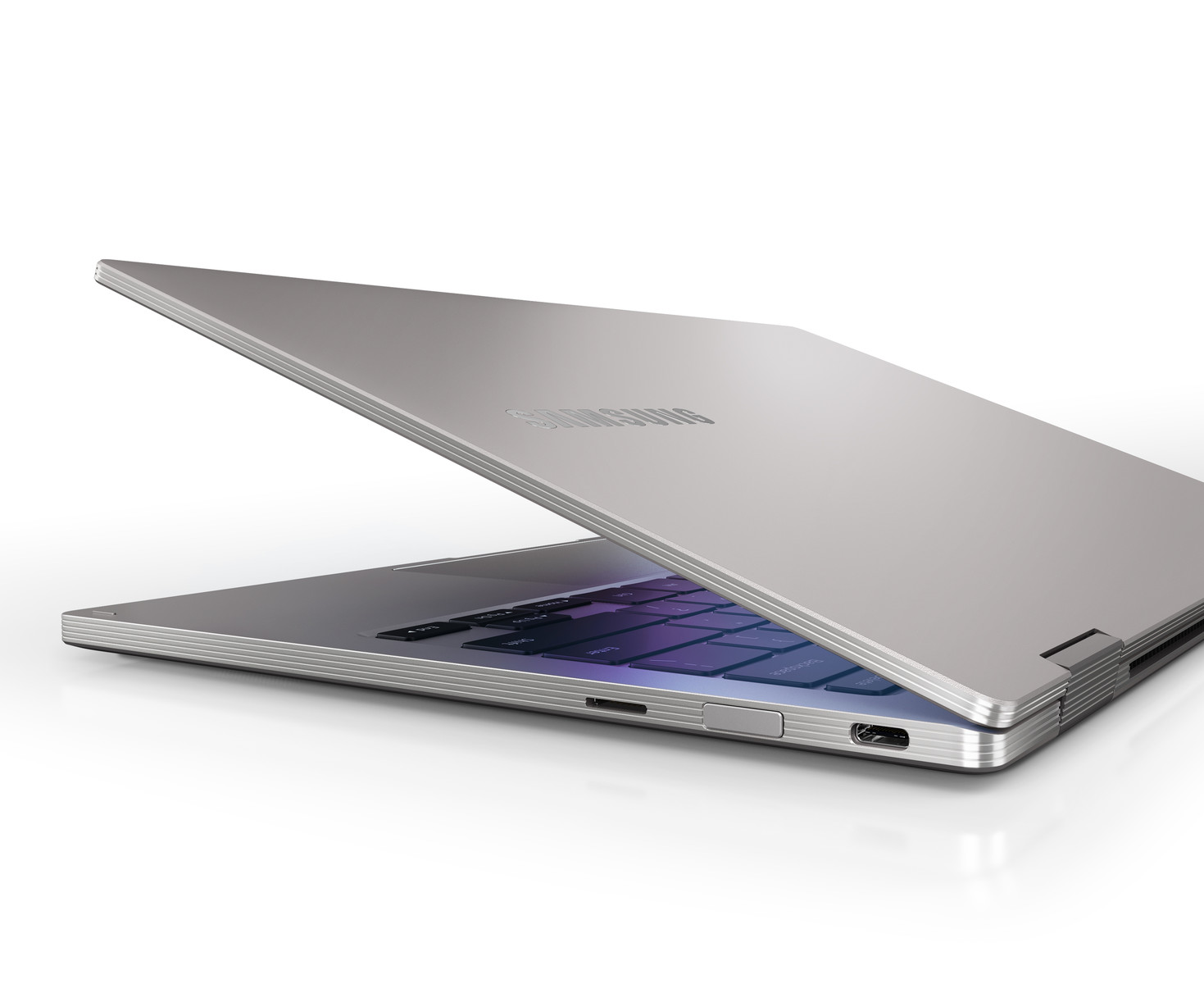 Display
Samsung Notebook 9 Pro screen now comes with thinner bezels. It has a glorious 13.3-inch Full HD display with borders only measuring 6.7mm thickdisplay with 1080p display resolution. The Laptop features a moderately bright panel that tops out at around 350 nits and also included an anti-glare coating
The entirety of the device has cut back on weight and thickness. Hence, it's now 2.84 pounds and 0.55 inches thick. Image aspect ration is also above average with a ratio of 16.9, therefore, enhancing detail look deliciously sharp.
Ports
The Notebook 9 Pro has a better port selection than other its predecessor. Samsung has removed the USB-A ports and replacing them with USB-C. Hence, the Notebook 9 Pro comes with two Thunderbolt 3 ports, a standard USB-C port, and a microSD card slot.
Keyboard
The keyboard has been worked on to complement the latest upgrade on the laptop. According to Samsung" the keyboard has been 'comprehensively redesigned.
It is more spacious and eliminate the gaps in between individual keys which offers a poppy typing experience despite their shallow level of key travel.
Hardware
Samsung has gifted its latest Notebook 9 Pro with an 8th-gen Intel Whisky Lake Core i7-8565U quad-core processor that clocks in at 1.8GHz to 4.6GHz. That's a nice step up from the Kaby-Lake Refresh Intel Core i7 Processor -8550U that powered last years model and only boosted up to 4.0GHz. The processor is paired with Intel's UHD 620 graphics.
Other system specs include 8GB of RAM and a 256GB PCIe NVMe SSD to round out a pretty competent Ultrabook. In terms of battery life, Samsung says you can expect up to 14 hours of usage that seems a little optimistic, so we'll have to double check the company's claims in our full review.
The laptop features a 55 Wh battery, and Samsung rates it as up to 14 hours of battery life.
Samsung Notebook 9 Pro Price
Samsung expects the new Notebook 9 Pro to be available in early 2019, with no pricing available yet, but I wouldn't be surprised if the price is also upgrade.