Samsung announced two new laptops at its developer conference. This consist of the Galaxy Book Flex, and Galaxy Book Ion. Just like the Samsung Galaxy Book S, these set of notebook laptops according to company is set to replace the company's old Samsung Notebook 9 Pen and Notebook 9 models. Samsung is set to deliver a new computing experience with Galaxy Book Flex and Galaxy Book Ion
The Samsung Galaxy Book Flex which is one of the best notebook series Samsung has every produce is a 2-in-1 machine designed to work both as a traditional laptop and a tablet. This convertible Galaxy Book Flex laptops comes with some truly unique features, such as brand new display technology and wireless device charging.
According to Samsung, the Galaxy Book Flex and Galaxy Book Ion are the first laptops to use QLED displays. This display is the same display tech that the company uses on its line of high-end flat-screen TVs. Samsung claims the displays on these laptops can reach a brightness of 600 nits, which will improve its overall visibility in sunny environments using a special "Outdoor Mode". Most conventional laptops, on the other hand, top out at 300 or 350 nits.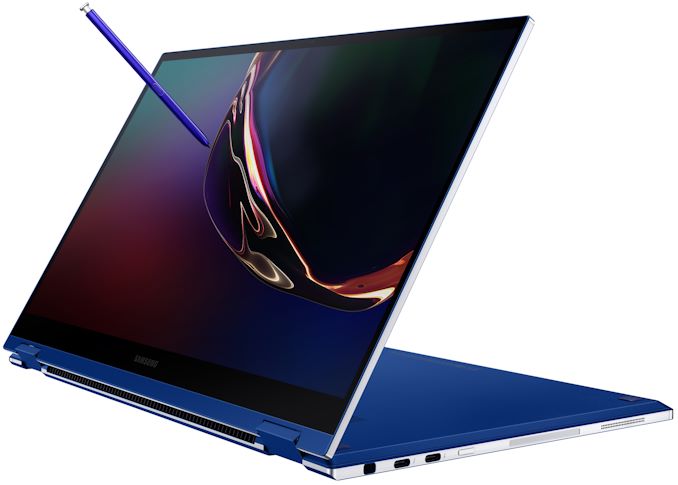 Design and Display
The Samsung Galaxy Book Flex convertibles come in an CNC-machined aluminum chassis body with a proprietary 360-degree hinge as well as a Royal Blue finish. This laptop comes in two screen size the 13.3-inch and 15.6-inch versions. Both version sports the Qled touchscreen Full HD display alongside a a wider-than-sRGB color gamut. Likewise, both screen size comes with a 1920 x 1080px resolution.
Galaxy Flex also houses an S Pen for you to draw on the screen or to use as a remote control for the webcam and PowerPoint slides, like you can on the Note 10 and Galaxy Tab S6.
Performance
The Galaxy book flex which name is is derived from the 360-degree rotating display is powered by 10th Generation Intel Core Ice Lake processor. Lakefield is an interesting beast. It's designed to offer better performance in environments where there isn't much space for components to sprawl out. The Lakefield processor is accompanied by a technique called Foveros 3D stacking. This technology allows Intel to mix and match different dies (like CPUs, GPUs, and AI accelerators) onto the same package.
For maximum performance, Samsung flex is also coupled with UHD or Iris Plus graphics,. This graphics card is accompanied by up to 16 GB of LPDDR4X memory, an NVMe/PCIe SSD with capacities up to 1TB, and an optional NVIDIA GeForce MX 250 discrete GPU with 2 GB of memory in case of the 15.6-inch model.
The laptop is also a Project Athena convertible PCs,hence, it support modern connectivity and multimedia technologies. Project Athena is an intel which establishes a baseline for what components can be included. To achieve Athena certification, machines need to pack an i5 or i7 processor, have at least 8GB of dual-channel memory, as well as a 256GB NVMe-based SSD. Machines will also require Thunderbolt 3, Wi-Fi 6 support, an FHD-minimum display, and a backlit keyboard. Intel even dictates the maximum size of the bezels.
This Samsung's notebook also comes with a fingerprint reader, a 720p webcam, a microphone array, and stereo speakers co-designed with AKG and enhanced with an amplifier. It has one regular USB 3.0 port, a microSD/UFS card reader, an HDMI outlet and a 3.5-mm audio jack for headsets.
Battery
Samsung said the new Galaxy Books can last "all day" or about 20 hours. this new Galaxy Books laptops also supports Wireless Powershare. This lets you charge compatible phones and accessories by placing them on the laptop's trackpad. They support the Qi wireless charging standard. According to Samsung, Wireless Powershare provides 7.4 volts when charging a phone and 5 volts when charging a smartwatch.
Samsung iss yet to announce pricing for the Galaxy Book Flex which according to the company will be available early next year, however, the company spokesman claims the laptop should cost around the same as the Notebook 9s. Thus, interested customer should be able to get one for around $1,100 -$1,400 equivalent of ₦399,300 – ₦508,200.