The  talk about flexible displays has been growing and going viral for years now with no tangible result. After years of waiting and hoping, things are about to change.
Samsung is gearing up to reveal its first foldable device this week, while LG and Huawei are set to follow in 2019, however,  tech innovator and manufacturer Royole beat them all hands down by been the world's first foldable smartphone called the Royole FlexPai . 
FlexPai is the world's first commercial foldable smartphone with flexible display, a combination of mobile phone and tablet. It was officially launched on Oct. 31, 2018 in Beijing. Disrupting consumers' traditional concept of a smartphone, FlexPai can be used either folded or unfolded, giving it the portability of a smartphone plus the screen size of a high-definition tablet.
While the FlexPai is an exciting development for anyone who has been waiting for bendy smartphones to become a reality, it's painfully obvious that the software has not yet caught up. And without compelling software, I'm still not convinced that anyone really needs a phone that can fold itself in two, but it indeed do fold.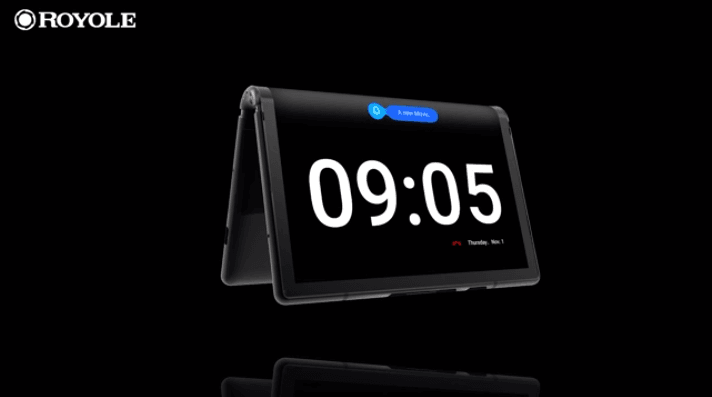 The founder and CEO of Royole Dr. Bill Liu stated:
"The Royole FlexPai foldable smartphone provides mobile phone users with a revolutionary, different experience compared to traditional phones. It perfectly solves the contradiction between the high-definition large-screen experience and portability, which introduces a whole new dimension to the human-machine interface. The phone's inherent design will forever change the consumer electronics industry, as well as the way people interact with and perceive their world."
Display
The "FlexPai," claims to be both a smartphone and tablet in one and can be used when folded or unfolded, giving it the "portability of a smartphone plus the screen size of a high-definition tablet." In terms of specs, the "FlexPai" comes equipped with a 7.8 inch AMOLED full-color display, 4:3 aspect ratio, and 920 x 1440 resolution.
The display is made of plastic, which Royole says makes it virtually unbreakable and much more scratch resistant than glass phones. The back of the phone is also plastic, except for the hinge which is made of silicone.
The company claimed that FlexPai's screen is virtually unbreakable and extremely durable passing tests where the screen has been bent over 200,000 times. Its screen provides fantastic color range, high contrast, wide angle, and high-resolution for outstanding picture quality. The FlexPai's unique Water OS provides unparalleled viewing flexibility. The 7.8″ fully flexible display can be arranged as split screens depending if the display is folded or expanded. FlexPai has the following aspect ratios: 4:3, 16:9 and 18:9.
FlexiPai includes two quality cameras  one 20 MP telephoto and a 16 MP wide-angle camera that make taking photos or videos more convenient than ever. Its flexible display can be bended to capture objects at unique angles, and when folded either side has a camera ready to point and shoot.
In Dual View Camera Mode, the object of your photo is visible from each screen when folded. Whether it's a selfie, portrait or candid photo, you or your subject can use FlexPai's screens to make sure the pose is perfect before the image is snapped. Eliminate multiple shots by getting it right the first time.
Performance
The Royola FlexPai runs on Android version 9.0, called Water OS, which has been customized to support the phone's different-sized displays. It also comes with come with a 2.8Ghz, eight-core Qualcomm Snapdragon processor and powered by a 3,800mAh battery.  This device comes with a 6GB RAM and 128GB storage model which cost $1,318 and the 8GB RAM and 256GB storage model for $1,469 .
Both the consumer model and the developer version are up for preorder on Royole's website right now. Royole says the Chinese consumer model and the developer version are slated to ship in December.
This device may not have been the best when it comes to many aspect compare to the device trend,  but it certainly bodes well for the imminent foldable / flexible display trend that we're already seeing working devices like this hit the market. Though alot could change in the foldable circle, especially if more mainstream phone makers like Samsung start making flexible phones as well. But until that happens, we have just this one to look at.