Just like when LG launched the W7 affectionately dubbed 'wallpaper TV', owing to its thinness, the W8 stormed the world with another site to behold with its ThinQ AI technology. The LG W8 is aspirational, innovative, unique, and with a pleasingly bracing expensiveness.
The Korean display powerhouse gave us all yet another invention to awe about as we are given a peek into the future of slim, sleeky and high-resolution OLED TV  at its press conference, this year's Consumer Electronics Show (CES 2018). This slim TV features 65-inch foldable OLED display with a 4K resolution
At first glance, the W8 for 2018 looks identical to the 2017 flagship model, which is not a bad thing has, it is from the same model series, however, the W8 is the upgraded version of the W7, it also comes with that 2.75mm thin screen and its attractive sidekick, the 4.2-channel soundbar. But beneath that slither of a panel lies a new brain which has upped the quality, making the picture and audio better than ever before.
The company's top-of-the-line "Wallpaper" or "Signature" model is designed to be hung on a wall in a lavish pad. Its wires are designed to be hidden, while the included  Dolby Atmos soundbar hosts all the connections to keep any unnecessary gubbins away from the back of the thin screen panel. it definitely gives the illusion of a beautiful art display.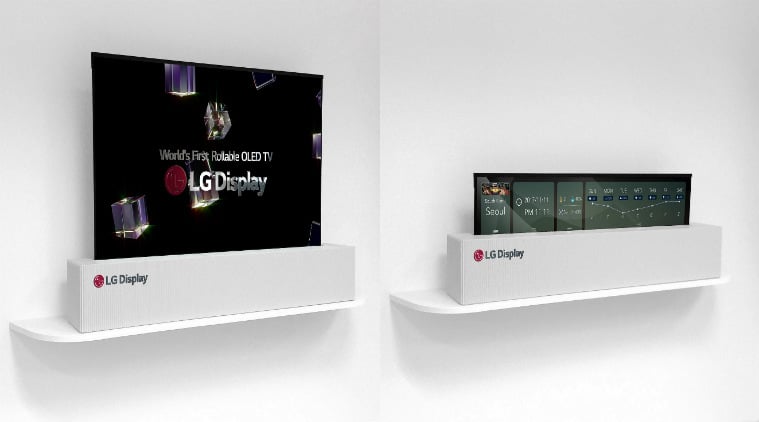 LG equipped the W8 with a powerful and efficient processor the Alpha 9, this powerhouse means that the picture processing, a key part of quality in OLED, is better than ever. it enhances better contouring between areas of bright light and darkness. OLED as a tech means the top end of quality is physically near unlimited, with the aid of the Alpha 9 processor the experience will be unfathomable. The Alpha 9 processor will also enable a massive leap in the look-up table, which means a way to color correct source input. Using what's called a 3-D reference table, colors can be corrected on an individual basis – if a blue is too blue, for example, it can be made less blue without impacting the green or red tones in the same image
This LG OLED TV with AI ThinQ features comprehensive support of major high dynamic range formats including Dolby Vision content which creates a more detailed sound experience that appears to come from everywhere for a wonderfully realistic, immersive experience and HDR from the cinema, as well as HDR10 and HLG, both with LG's advanced tone-mapping technology that provides scene-by-scene optimization. Tha ThinQ technology brings internal smarts to the TV that allow for voice-control and context-related search via the included Magic Remote. In the US this includes integrated Google Assistant
Officially, the new TV's resolution measures at 3,840 x 2,160, which gives a quality picture and video texture. In addition to this is a super smart object recognition system which works a bit like the iPhone X camera to create depth around images. That means close-ups on faces, for example, draw you in far more as the face 'jumps out' at you, just the feeling; the effect is subtle and natural, rather than looking lifeless.
LG in its wonders allows all the LG 8-series OLEDs (the W8, G8, E8, C8, and B8) all support four kinds of HDR formats – HDR10, Dolby Vision, Advanced HDR by Technicolor and HLG. This will work in tandem with LG's proprietary HDR Pro and HLG Pro technology that works on a scene-by-scene basis to find the correct balance between low-points and highlights.
Conclusively, though this TV might not look so different from the last year version, it is a massive success and a tech worth our pay.