The new generation of wireless mobile technology is here and 5G consumer devices are also beginning to arrive. Thus, the US-based chip-maker Qualcomm and Chinese computer-maker Lenovo have teamed up to introduce the first 5G laptop, powered by Snapdragon.
Qualcomm and Lenovo partnered and unveiled the first 5G-enabled always-connected laptop as the first of its kind. Although the laptop is not an actual product yet, but rather a rebrand-and-tweak of the existing Snapdragon 8cx 5G Compute Platform. This device was unveiled at the ongoing Computex trade show in Taipei named "Project Limitless"
This collaboration between industry leaders ushers in a new generation of Always On, Always Connected PCs** that are designed to deliver the benefits of the unifying connectivity fabric made possible by 5G. It will also open the door to new, transformative user experiences for both consumers and enterprise.
Specifications Of World's 1st 5G Laptop
"With real 5G in a PC, it's all about satisfying users' need for speed: faster file transfers and streaming in 4K, 8K and even AR/VR; faster and higher quality video chats on-the-go; even faster screen refreshes for mobile gaming," said Johnson Jia, Lenovo's senior vice president and general manager of Consumer Business of Intelligent Devices Group.
The Snapdragon 8cx, the most extreme Snapdragon ever, offers extreme performance, extreme battery life, and extreme connectivity. It supports immersive user experience and  multi-gigabit data speeds. As well as multi-day battery life, enterprise applications, and security-rich capabilities.
It features the Snapdragon X55 5G modem and Qualcomm Technologies' RF Front-end. This technology is a comprehensive solution that allows OEMs to bring 5G connectivity to even the thinnest form factor, including PCs. Users can experience peak download speeds of up to 7 Gbps without a Wi-Fi connection or a hotspot.
Qualcomm's Snapdragon 8cx Compute Platform is designed to support both 5G and 4G connections. This platform combines the Qualcomm Adreno 680 GPU with the Qualcomm Kryo 495 CPU and has a long lasting battery. Qualcomm claims the battery can last for several days per charge. The platform uses the Snapdragon X55 5G modem, which has download speeds of up to 2.5 Gbps.
Overview Lenovo 5G Laptop.
From first glace at the  Computex trade show, the Lenovo and Qualcomm's world first laptop is as thin and light as the company's convertible Yoga C630 with the same chassis design.
This 13-inch Lenovo laptop feels a bit lighter than the majority of 13-inch notebooks on the market today.  It comes with big screen, strong body build, excellent keyboard and biometric security. Likewise, there is a reliable battery life for uninterrupted day-to-day usage, you can count on this PC from Lenovo. This is probably due to the lack of a sophisticated cooling system that normally accompanies x86 CPUs used in such PCs.
This 5G Laptop comes with a fantastic typing experience. It has a solid keyboard; the keys are easy to press, yet they are located far enough from each other to minimize typos.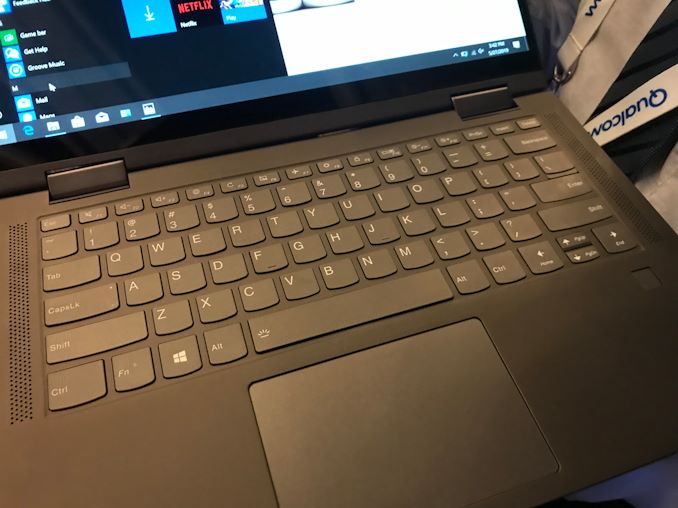 Qualcomm's new 8cx chip will feature a 4+4 Kryo 495 design, paired with 10MB of L3 cache and a large shared system cache.There is also a Adreno 680 chipset to power the GPU. This chipset is a much larger version of the Adreno 640 we see on the top end Snapdragon 855 which has powered most of the major 2019 smartphones. It is built on 7nm, and Qualcomm states is 60% more efficient than the Snapdragon 850 in the current generation of ACPCs.
The Lenovo 5G notebook will be equip with up to 16 GB of RAM as well as a PCIe or UFS 3.0 SSD with up to 1 TB capacity.  It also supports 802.11ac Wi-Fi, Bluetooth 5.x, and, naturally, 2G/3G/4G (Cat 22) and 5G via the Snapdragon X55 5G modem. This modem has a download speed of 2.5 Gbps. The Lenovo 5G notebook also has two USB Type-C ports as well as a 3.5-mm headphone jack.
Finally, Lenovo is yet to disclose anything about the actual launch date and price of the laptop. However, thanks to the innovating specs and feature, it is certain the laptop will be worth the price.