Asus announces the launch of its new ASUS ProArt StudioBook One and ProArt StudioBook Pro X the higher variant at IFA 2019. In order to expand its ProArt line, the company partnered with Nvidia to develop the World's Fastest Laptop powered by the NVIDIA Quadro RTX 6000 GPU.
The ProArt StudioBook Pro X which is the higher version comes with upgraded features and specifications which includes the signature ScreenPad 2.0 trackpad.
Asus ProArt StudioBook Pro X is the first Quadro®-powered laptop to feature the four-sided NanoEdge display, making it a mighty powerhouse that brings ideas to life. The innovative slim-bezel NanoEdge design allows a larger panel to fit into its compact chassis for immersive visuals. Powered by up to 9th Gen Intel® Xeon® or Core™ i7 processors, ProArt StudioBook Pro X offers outstanding performance, while its NVIDIA® Quadro RTX™ 5000 GPU ensures a graphics prowess that's second to none. The addition of the interactive ASUS ScreenPad™ 2.0 makes working a breeze, too. ProArt StudioBook Pro X offers a combination of cutting-edge graphics and portability that makes it perfect for creative professionals.
Design
The StudioBook Pro X is a premium looking laptop with a well crafted design. For a 17-inch laptop, ProArt StudioBook Pro X is surprisingly compact. It has a footprint comparable to that of many 15-inch laptops, enabling it to slip easily into your briefcase or messenger bag for professional-grade graphics wherever you go. It is slim and sleek with round edges at the corners. The Shiny Grey finish with Rose Gold highlights gives it a classy look.
ProArt StudioBook Pro X is the first Quadro laptop to feature the four-sided ASUS NanoEdge display. The innovative display design provides a 92% screen-to-body ratio and 16:10 aspect ratio that supports 97 percent of the DCI-P3 wide color space for immersive visuals.
This laptop comes with an innovative cooling design which comprised of an aerospace-grade titanium vapor chambers thermal module and a lid that lifts to elevate the rear of the notebook up to allow more cool air inflow.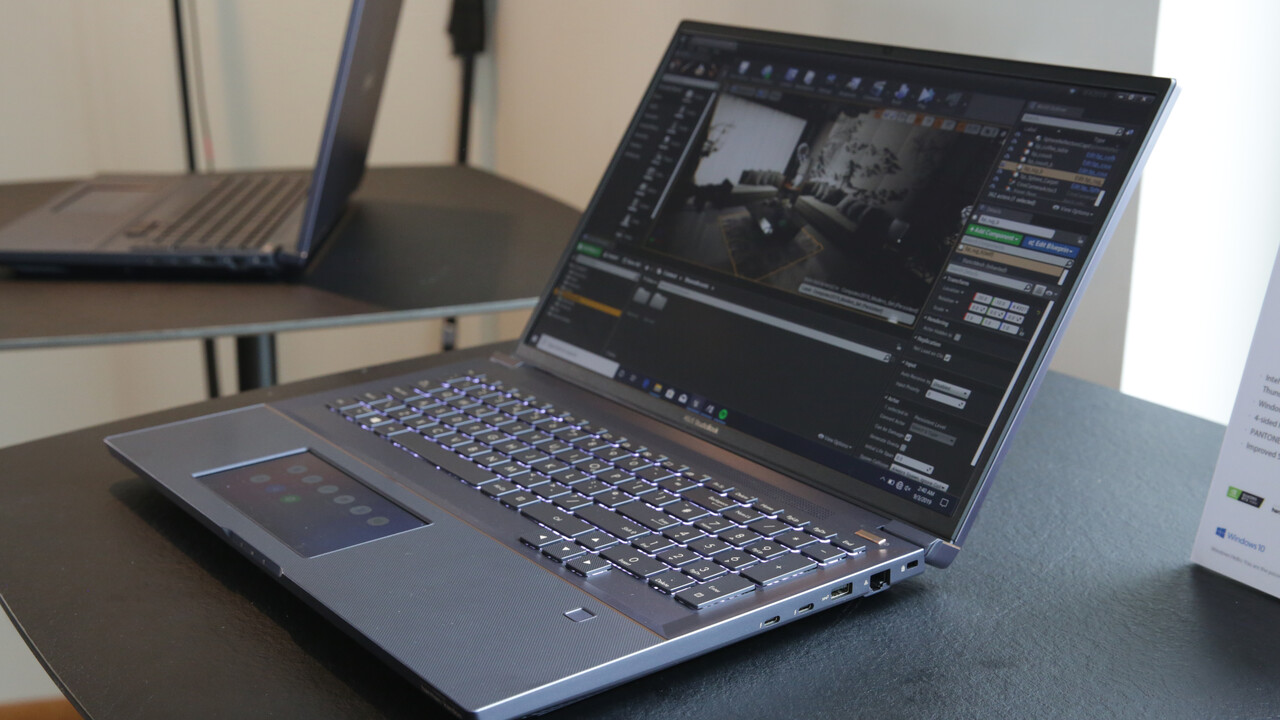 Display
Asus ProArt StudioBook Pro X laptop sports a 4K UHD Pantone-validated display for high-resolution. The 17-inch NanoEdge display on ProArt StudioBook Pro X is truly awe-inspiring. It comes with 1,920 x 1,200 screen resolution and WUXGA panel which features 8-bit color depth, a wide color gamut, and exceptional color accuracy to ensure pin-sharp detail and bright, vivid colors for more lifelike images.
StudioBook Pro X panel supports 100 percent of the AdobeRGB color space with a Delta of less than 1.5, providing great color accuracy. For video editors, this screen also supports fast 120Hz refresh rates and features edge-to-edge glass with slim bezels. This laptop is designed for professional use, it also has a matte finish so there's no distracting glare.
ScreenPad: Second Screen
Unlike Asus ProArt StudioBook one, this higher model comes with a signature ScreenPad 2.0 trackpad which serves as a second screen. The new ScreenPad 2.0 upgrades the traditional laptop experience, adding an interactive secondary touchscreen that enhances your productivity with more possibilities. Its intuitive smartphone-like interface lets you easily manage tasks and create your own seamless multitasking workflow. There's a series of handy ASUS utility apps to boost productivity including Quick Key for one-tap automation of complex keyboard sequences along with Handwriting, Number Key and Office Xpert.
There are also useful quick controls that improve the interactions between the main display and ScreenPad: for example, you can now launch a video or chat box or many other apps onto ScreenPad to take advantage of the extra space wherever you are, and without interrupting your work on the main display.
ScreenPad 2.0 comes with a 5.65-inch touchscreen, and intelligently fits many apps into the small screen for instant access. The newly-optimized ScreenPad experience ensures that your favorite apps worsk perfectly on this secondary display right away, like a mobile phone screen without the need for a ScreenPad-specific version. ASUS also works closely with third party developers, including video-editing software developer Corel®, to optimize adaptive ScreenPad tools for the ultimate productivity and there's much more to come.
Keyboard
The Asus ProArt StudioBook Pro X Keyboard is quite comfortable for the best typing experience at workplace and home. The keys are clear and have generous spacing. Asus is flaunting the best keyboard for a gaming laptop as well as workplace laptop with spacious areas. The keys are comfortable with a slight rubberized feel for grip. Keyboard keys have tasteful backlighting for low-light operation and both it and the touchpad were accurate and responsive. Asus 17-inch StudioBook Pro and have a trackpad that can double as a number pad.
Performance
Asus ProArt StudioBook Pro X delivers next-level performance, with its latest Intel processors and NVIDIA graphics. The laptop is powered by NVIDIA Quadro RTX 5000 graphics alongside either an Intel Xeon or 9th-gen Core i7 processor
The Quadro RTX 5000 at the heart of the ProArt StudioBook Pro X enables enjoyable users experience. The RTX Studio-based system handle massive datasets and accelerate compute-intensive workflows, such as creating 3D animations, rendering photoreal product designs, editing 8K video, visualizing volumetric geophysical datasets and conducting walk-throughs of photoreal building designs in VR.
This processor is designed to handle complex, multithreaded applications. These processors take mobile computing to another level, easily outperforming previous-generation offerings to give you incredibly smooth and responsive multitasking.
The NVIDIA Quadro RTX 5000 graphics, optimized for stability and performance with professional software apps. This DirectX® 12-compatible graphics monster delivers all the horsepower you need for even the most graphics-intensive tasks, such as 3D rendering, video playback, and flawless simulation. This RTX Studio systems is integrated with NVIDIA Quadro RTX or GeForce RTX™ GPUs, and a 9th-gen Intel Core i9 processors to deliver advanced features like real-time ray tracing, AI and 8K RED video acceleration to millions of creative and technical professionals.
Verdict
Conclusively, ProArt StudioBook Pro X is a perfect fit for designers looking for a stylish, portable laptop with the power to run CAD and 3D design tools. It delivers pixel-perfect visuals, and enables superfast large file transfers between devices.
It is also the best choice for Animators because
the combination of professional-grade Quadro graphics, a wide-gamut display and exceptional color accuracy makes ProArt StudioBook Pro X ideal for animators and other video editors. You can even hook it up to an external monitor to make editing easier and more efficient.
More than any, a combination of powerful Intel Core or Xeon processors with up to 128GB ECC memory give ProArt StudioBook Pro X more than enough performance to run real-time simulations, rendering and interactive design.
Finally, the
ProArt StudioBook Pro X
is the perfect solution to workforce stress.
Asus is yet to release a date or price for the Proart Studiobook Pro X but judging from the components it's packing, it's likely going to cost an obscene amount of money, but, it will definitely worth the price.
Along side the Proart Studiobook Pro X is the Asus Proart Studiobook one and Asus ProArt Station D490MX for desktop lovers at the IFA 2019.