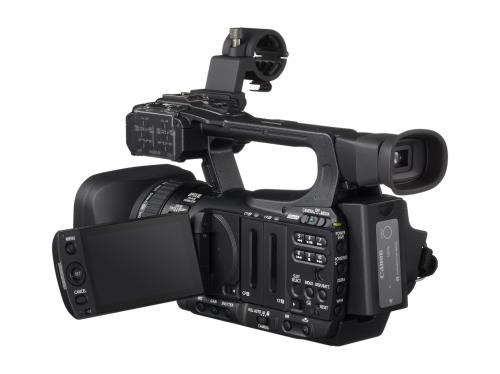 The camera records MPEG-2 at frame rates of 23.98/29.97p and 59.94i at up to 50 Mb/s, with 4:2:2 color sampling, to integrated CF card slots using an MXF wrapper that is compatible with most popular NLE systems. You can also record to an integrated SDXC card slot using the MP4 codec at frame rates up to 59.94p. The XF200 features four channels of audio with manual/automatic record levels, with two XLR inputs and a built-in camera microphone. The built-in handgrip features 120° of rotation, making it easier to find a comfortable shooting position.
The camera features Canon HD CMOS Pro sensor combines with the DIGIC DV 4 processor to deliver stunning picture quality, even in low light as well as outstanding dynamic range and realistic colour reproduction. Wide DR Gamma helps to reduce over-exposure, whilst an infrared shooting mode means the camera can easily be used at night – ideal for the wildlife videographer.
Picture quality is complemented by advanced audio functions, with 4-channel Linear PCM audio recording supported.
Built-in dual-band Wi-Fi allows you to control the camera's functions from available mobile devices as well as view footage on the devices. Proxy files can be transferred via Wi-Fi while you are shooting new footage. The camera also incorporates an Ethernet connection, so you can transfer files directly from the camera. An HDMI output provides you with video out.
The XF200's dual format recording feature provides flexibility, speed and data security. Footage can be captured simultaneously in two different formats, providing instant back-up and alternate delivery options. Full HD images can be stored on two CF cards using a broadcast standard 50Mbps MPEG2 codec, whilst an MP4 version can be saved to an SD card in either Full HD or a lower resolution – ideal for rapid file transfer in applications such as news gathering. It's even possible to stream low resolution proxy files directly to another device such as a smartphone.
Sharing content on   the XF200 is easy thanks to built-in Wi-Fi and Ethernet connectivity. Footage can be reviewed on another device such as a tablet or smartphone, or transferred directly via FTP. This connectivity also allows for remote control of the camera via a web browser And Canon's RC-V100 wired remote controller can be configured too.
Benefits
20x, f/1.8 wide-angle zoom lens for amazing long-distance shots
HD CMOS Pro sensor provides outstanding image quality, even in low light
Compact, lightweight design, with 3-ring lens operation and rotatable grip
OLED display and 1.23m dot viewfinder enable precise monitoring
Share content easily via built in Wi-Fi or Ethernet; record proxy files directly to other devices
Dual format recording: broadcast standard 50Mbps MPEG2 codec, plus MP4 recording in HD or SD
Wide DR gamma helps to avoid over-exposure
4 channel audio recording; 2 XLR inputs
Infrared shooting mode, with enhanced IR lamp
Capture GPS location data (optional accessory)
1920 x 1080 CMOS Sensor

The XF200 features a 1/2.84″ HD CMOS image sensor which is slightly larger than a 1/3″ sensor. The sensor features approximately 5% more pixels than 1920 x 1080, and records a 1920 x 1080 window from the slightly large sensor. This allows the camera to use the extra pixels for Electronic Image Stabilization and maintain the 1920 x 1080 resolution so the image isn't degraded by being blown up as with traditional EIS systems.
20x Optical Zoom Lens

The Canon 20x HD zoom lens provides a zoom range with 35mm equivalent of 26.8 to 576mm, and a minimum object distance of just 23.6″. The lens features an eight-blade iris design providing out-of-focus highlights with a natural rounded appearance.

The lens features three infinitely rotating rings for focus, zoom, and iris. The rings use an electronic coupling to move the lens functions but maintains a mechanically linked feel during use.
Image Stabilization

The XF200 offers optical image stabilization (OIS), useful for reducing image blur in a wide variety of shooting situations. It also utilizes electronic image stabilization (EIS) in conjunction with the OIS, providing five-axis image stabilization.
Advanced Displays

The camera features focus peaking and a selectable waveform monitor display.
OLED View Screen and EVF

The 3.5″ Organic Light-Emitting Diode (OLED) display provides vivid color and 1.23MP resolution. The view screen has a viewing angle of over 80° in all directions, allowing you to see a usable image even when you are off-angle to the view screen. The color EVF is 0.45″ with 1.23MP of resolution and tilts up to 45° to accommodate different shooting positions.
Audio

The XF200 features an integrated microphone and two XLR line/mic level inputs with +48V phantom power for connecting external mics.
Outputs

The camera features an HDMI output connector.
Media Card Slots

The Canon XF200 comes with Dual CF Card slots allow varied recording options:

Dual recording: Simultaneously record the same footage to different media cards using different codecs and bit rates
Double-slot recording: Record simultaneously to each of the two CF memory card slots, providing an instant backup for your footage
Relay recording: the XF200 automatically switches video recording from one memory card to the other when the first memory card becomes full

The SDXC slot can be used to record high-quality MP4 files, and you can record to one CF card slot and the SDXC card slot simultaneously.
Infrared Shooting Mode

Through the infrared shooting mode, you can record videos even in low-light situations.  An IR emitter built into the top handle provides an IR source.

The XF200 also comes with an SDXC slot that can be used to record MP4 files in high quality. Plus, you can record on one CF card slot and the SDXC card slot at the same time.
Wi-Fi Connectivity

Dual-band Wi-Fi (5 GHz and 2.4 GHz) support is built into the camera, allowing FTP file transfer of MP4 video. The camera supports a web browser interface that, when combined with Wi-Fi support, allows you to control key features of the camera including start/stop recording, zoom (limited to three speeds), exposure functions, and focus using a smartphone or tablet. You can also view and download recorded MP4 footage from the camera on a PC or mobile device while continuing to shoot.
Wired Connectivity

An integrated Ethernet port allows you to link your camera to existing wired networks and wireless routers, allowing you to download footage from the memory cards.
Autofocus

The camera features an autofocus system with several useful modes including Instant AF, which uses both the TTL-Video Signal Detection System and the external sensor, and Face Detection AF, which tracks the focus on faces in the video frame.
Wide Dynamic Range

A wide dynamic range gamma of 600% helps prevent overexposure, even for high-brightness areas of an image and/or with non-uniform colors. Unlike the normal knee function that compresses video signals in high-brightness areas using linear gamma, a wide DR gamma retains continuity across the image and enables color grading.